News - Details
Information about selected news
Final Battleground honorable mention
It has been almost a year since FBG was shut down and plugin discontinued. For some of us who loved concept of that website and it's essence it was end of one chapter and beginning of another.

Soon after that Valve has released their version of achievements for Counter-Strike Source and ruined many hours and days of hard work guys from Krooked Gaming (former known as Demonic Gaming) have invested in it. Without Valve's support their project was doomed and it had to cease to exist.

Today, we're paying a tribute to Final Battleground and some of us out there who cared about it will always remember that awesome and ambitious project. We have spent many many hours playing on FBG and it was enjoyable experience from which we have made friendships, forged alliances and battled together for world domination. It won't be forgotten.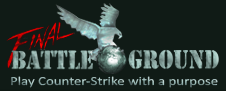 Link: FBG - The Story
Please log in before writing comments.
No data found.
Pretender: We're thinking about redesign of website, that's new
Some want that DM server back but i got to check if there's enough dedicated people so we can achieve it.
---
Master of Puppets: So whats new guys?
---
Nooben: Psychos ts3 server has shut down since the firm that was hosting it, broke down. i have bought us a new ts3 server again. Info: ts3.speedgaming.pro:12164 and theres no password. -Nooben
---
Nooben: Official the League of legend team has moved to the Eu West server.
---
SPYDOX: can you tell me whats the pw for ts? and whats the newet website?
---
SPYDOX: I will be showing!!! (if ill get the team)
---
Nooben: Another disapointment for the league of legend team. another opponent didn't show. but we took us the time to train instead. -Nooben
---
Pretender: As soon as they approve team on ESL. I have applied to join 5on5 league. If you would like to join 1on1 you can do it too i think. Have fun!
---
ZapToX: Hi guys
Can u tell me when we are joining the league, so we can start playing some serious League of Legends. Im looking forward to it
---
Nooben: hi all i have bought a new ts3 server for PsY so pm on steam to get info. !
---
Archive