Final Battleground honorable mention
General News
15.06.2011 at 23:42
It has been almost a year since FBG was shut down and plugin discontinued. For some of us who loved concept of that website and it's essence it was end of one chapter and beginning of another.

Soon after that Valve has released their version of achievements for Counter-Strike Source and ruined many hours and days of hard work guys from Krooked Gaming (former known as Demonic Gaming) have invested in it. Without Valve's support their project was doomed and it had to cease to exist.

Today, we're paying a tribute to Final Battleground and some of us out there who cared about it will always remember that awesome and ambitious project. We have spent many many hours playing on FBG and it was enjoyable experience from which we have made friendships, forged alliances and battled together for world domination. It won't be forgotten.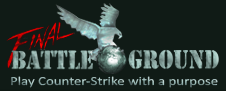 Link: FBG - The Story
Long time no see a.k.a. WE ARE BACK!
Clan News
16.08.2010 at 17:08
For long time we have been quiet cause lets be honest here... we didnt give a fuck. But now we are back. Maybe not as a competitive clan for now but more as a gaming community.

As you can see our server is doing great again. We managed to climb to top 250 servers and we are pushing further. So some news on the server...

We have chosen 40 slot DM cause... well... wer crazy and we love epic mayhem
The ban system is working again and we are recruiting new and reliable admins as we speak. We also added stats on the server so now everyone can check how awesome css player he is!

Ok this is all for now but stay tuned for more news soon!
Server in top 1000 on game-monitor
Server News
15.11.2009 at 20:11
Yep. In under one month our server reached top 1000 on Game-monitor

We are really happy that the server is populair and our next goal is to reach top100

So once again thanks to our supporters and all the players that like to play on our server.
Link: Game-monitor - GameTracker
Web downtime
Clan News
13.11.2009 at 11:24
Our hosting company is will be moving our page to a brand new server. Because of this you may experience slowdowns or unavailability of our web.

The migration is scheduled to take place between 19:00 and 23:00 on Friday, November 13, 2009.

Thank you for your patience!
No data found.
Pretender: We're thinking about redesign of website, that's new
Some want that DM server back but i got to check if there's enough dedicated people so we can achieve it.
---
Master of Puppets: So whats new guys?
---
Nooben: Psychos ts3 server has shut down since the firm that was hosting it, broke down. i have bought us a new ts3 server again. Info: ts3.speedgaming.pro:12164 and theres no password. -Nooben
---
Nooben: Official the League of legend team has moved to the Eu West server.
---
SPYDOX: can you tell me whats the pw for ts? and whats the newet website?
---
SPYDOX: I will be showing!!! (if ill get the team)
---
Nooben: Another disapointment for the league of legend team. another opponent didn't show. but we took us the time to train instead. -Nooben
---
Pretender: As soon as they approve team on ESL. I have applied to join 5on5 league. If you would like to join 1on1 you can do it too i think. Have fun!
---
ZapToX: Hi guys
Can u tell me when we are joining the league, so we can start playing some serious League of Legends. Im looking forward to it
---
Nooben: hi all i have bought a new ts3 server for PsY so pm on steam to get info. !
---
Archive